The National Assembly's full-time members discussed on Thursday the bill for the amended Labor Law, focusing on provisions governing legal labor strikes.
According to the draft law, strikes are deemed legal when employees want to protect their interests but when disputes in rights break out, workers are not allowed to go on strike and the disputes must be brought to a court.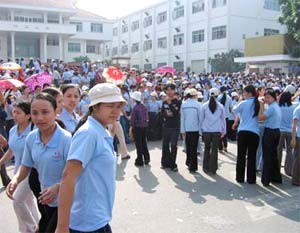 A recent strike at one of the foreign business in Viet Nam
Many legislators disagreed with this provision. Deputy Nguyen Duc Dung of Kon Tum Province said recent walkouts were considered illegal because employees lack knowledge to distinguish between disputes in rights and those in benefits.
Supposing that the recent strike cases are brought to a court, workers will be the loser because their walkouts are illegal, he added.
However, National Assembly vice chairman Nguyen Van Yeu said it is advisable to separate disputes in rights out of benefit disputes, and failure to this will be adverse to both the business climate and workers.
In reality, more than 1,000 recent strikes did not see the leadership of the labor union. Therefore, the authors of the draft law added a stipulation that the right to lead a strike is in the hands of the labor union, and if the labor union at the workplace has not been set up yet, a higher-level labor union will lead the strike.
Many NA deputies disagreed with this stipulation. Ms. Nguyen Thi Hoai Thu, head of the NA Committee for Social Issues, wondered about the feasibility of the provision, arguing that currently 85 percent of private businesses and 65 percent of foreign-invested enterprises in Viet Nam have yet to set up worker unions.
She said the recent strikes did not see the labor union's leadership but they were initiated and led by workers, and supported by other employees. Her question was that when strikes at non-labor union businesses break out, who will lead the workers who go on strike.
Agreeing with her arguments, deputy Nguyen Duc Dung proposed that the amended law should state clearly it is up to employees to ask unions to lead strikes or appoint representatives.