Lawyer Le Cong Dinh, who was arrested on June 13 for conducting propaganda against the State, has admitted that he broke the law, felt regret for his actions and begged for clemency.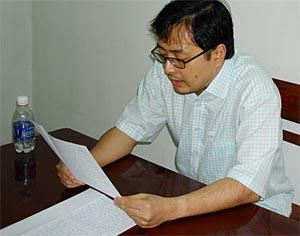 Le Cong Dinh reads his testimony at the investigation agency on June 17 (Photo: SGGP)

His written statement was made at the Security Investigation Agency on June 17.

Dinh admitted that he met with Nguyen Sy Binh and Tran Huynh Duy Thuc in Phuket, Thailand, on March 26 to discuss the founding of the Labor Party of Vietnam and the Social Party of Vietnam.

These parties would then mobilize forces in an attempt to overthrow the Government.

According to the agency, Le Cong Dinh, since 2005, has been in touch with Binh, head of the US-based organization the People's Action Party - a precursor of the 'Democratic Party of Vietnam,' and became a key member of the party.

Binh was previously expelled by the Government for his acts against the country, while Thuc was arrested on May 24 on the same charges as Dinh, said the agency.  

"We also discussed the co-writing of a book titled 'The Vietnam Road' to seek solutions to social, economic and law reforms for Vietnam," Dinh wrote in his testimony.

"I revised a number of terminologies of the Democratic Party of Vietnam's charter. I was handed a 'New Constitution' by Nguyen Sy Binh for reference in drawing up a constitution for that Party," he said.

Dinh said he had taken part in a training course on non-violent struggle, run by the Viet Tan terrorist group in Pattaya, Thailand, in March 2009.

It was part of an attempt to overthrow the Vietnamese State.

In many of the seized documents, Dinh was a member of the "Law Committee" of the group.

In the book, Dinh and his colleagues believed that the chance to overthrow the Vietnam Government would occur in 2010.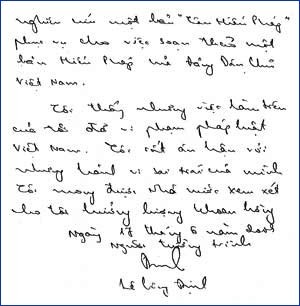 Part of Dinh's written testimony at the agency (Photo: SGGP)
He and other Viet Tan members set up the "Alliance of Democracy, Human Rights and Viet Tan," with an aim to attack six targets in Vietnam: the Communist Party, army, police, government system, information and financial control systems, and justice institutions.  

In 2006-2009, Dinh wrote and sent 20 articles to the BBC, Radio Free Asia, Radio France Internationale, and the Phia Truoc (Ahead) magazine of the Viet Youth for Democracy group, according to the agency.

In those documents, Dinh called for the replacement of the Communist Party leadership and take advantage of the bauxite mining issue in the Central Highlands, as well as the Truong Sa (Spratly) and Hoang Sa (Paracel) archipelagoes issues, to stir up thoughts against the Party and State.

He also defamed a number of Party and Government officials.

In a related development, the agency has arrested Le Thang Long, 42, of Hanoi, who has been allegedly assigned, for some time by Thuc, to gather forces via a society chaired by Thuc to conduct activities against the Vietnamese Government.

In April 2009, Long colluded with Thich Minh Tam (also called Nguyen Thieu Van) in Australia to run a website to set up various groups to act against the Vietnamese State.

In accordance with Article 88 of the Criminal Code, Le Cong Dinh, Tran Huynh Duy Thuc and Le Thang Long have been charged with making "propaganda against the Sate of the Socialist Republic of Vietnam" and will be detained for four months while the investigation continues, Major General Hoang Kong Tu, deputy head of the General Department of Security, said on June 18.

Related article:
Lawyer arrested for allegedly acting against State