Dong Thap Province People's Procuracy has suggested a sentence of 12-14 years for Pham Phu Loc, 31, head of the Colony investment fraud ring.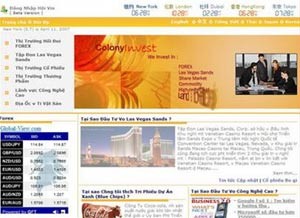 Layout of the Colony website
Loc, resident of Phu Huu Commune, Chau Thanh District, allegedly defrauded 158 people out of $193,880 by persuading them to deposit money through a website of a bogus company, 'Colony Investment Management.'
 
In order to pocket the money, Loc claimed that he could return up to 81 percent interest a month on any amount investors cared to hand over.
 
Loc paid investors $69,000 as interest, with commissions of $11,300 and kept $74,700 and the remaining $38,880 on expenses.
 
After a two-day court of first instance was opened February 10 by the province's People Court, Judge Ha Van Thuong said the jury will pass sentence on February 18.
 
Colony is alleged to be an online fraud ring where investors deposited their money and never got their money back since they do not know the identities of the culprits.
 
The advertisement on its website said all transactions, commissions, bonuses and interest were completed and withdrawn online and were not subject to any fees.
 
Many websites in Vietnam have engaged in this kind of fraud, which is known as a Ponzi scheme, or pyramid scheme, and has died out in most developed countries.
Related articles:
Colony Invest Conspirators to Stand Trial in Ha Noi
More from Online Fraud Ring Busted in Northern Viet Nam
More Colony Invest Fraud Rings Members Captured
Police Crack Down on Multi-million-dollar Fraud Rings
Something for Nothing Like Never Before