Police yesterday sought indictments against three leaders of a fraud ring  trading in VAT invoices to steals billions of dong in VAT refunds from state budgets.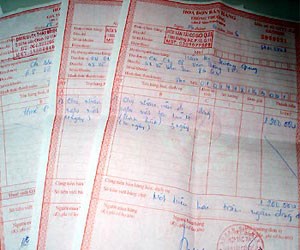 VAT Invoices

The Investigative Police Bureau against Social Order and Economic Management (C15) of the Ministry of Police (MoP) also issued arrest warrants against Lam Ngoc Quynh Nhu, age 32, Director of Ba Ngoc Co., Ltd., and residing in Go Vap District, Ho Chi Minh City, for further investigation into acts of fraudulently  possessing, transporting and circulating VAT invoices.

Quynh Nhu joined in a ring consisting of more than ten companies trading in VAT invoices. The ring was led by Tran Cong Nguyen, age 55, Director of Vinamco Co., and residing in District 6.
Preliminary investigations revealed Cong Nguyen had been hiring Quynh Nhu to work as director for Ba Ngoc Co. Ltd. since 2003. Quynh Nhu, in turn, persuaded Lam Ba Kiet, her spouse, residing in Long An Province, to take charge of the post of director of Ba Ngoc Co.'s Long An Branch.
The three established dozens of bogus companies in order to purchase VAT invoices from tax agencies then sell them to enterprises for dodging taxes.
The ring started operating in late 2002 and has sold VAT invoices worth over VND1 trillion to hundreds of enterprises to gain illicit earnings of more than VND20 billion.
Quynh Nhu is now in temporary detention, Ba Kiet out on bail and Cong Nguyen on the run, a fugitive from the Law.
Police said they have issued a wanted notice against Cong Nguyen.