The Department of Labor, Invalids and Social Affairs in the central province of Quang Ngai has proposed to the People's Committee to severely punish a man from Nghia Hanh District who was brutally torturing his adopted daughter.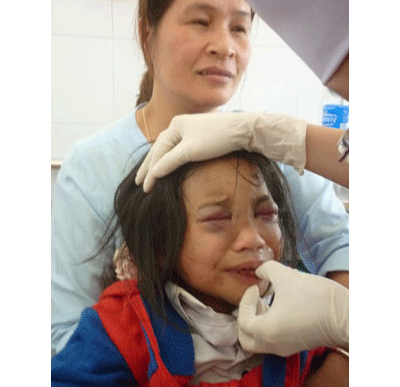 The young girl being treated in hospital
Truong Dinh Duc, deputy head of the Department of Labor, Invalids and Social Affairs, said on February 15 that his department had suggested the harshest punishment on 59-year-old Nguyen Mui from Nghia Hanh District who was mistreating his adopted 10-year-old daughter, and also relieve the child from his custody.
Police in Nghia Hanh District on February 14 issued an urgent warrant for the arrest of Nguyen Mui for ill-treating the child. They are questioning Mui's wife, Doan Thi Hong Yen, who will also be punished if found guilty.
Senior lieutenant colonel Nguyen Tat Chuan said Mui admitted to the police that he had beaten his adopted daughter with rods, dozens of times since 2010. He also caged her in a henhouse, stripped her naked and tied her to a pillar in his house.
Nguyen Thuc Phi, Mui's 10-year-old adopted girl, helped him and his wife display items in his shop everyday before going to school.

She was repeatedly beaten by the couple and on February 10, Mui gave the little girl such a severe thrashing that she was left unconscious. The couple then took her to the general hospital only after neighbours intervened.
The girl is presently suffering from bruises on her face, and is so traumatized that she bursts into tears on seeing strangers.