Police in Dong Hung District in the northern province of Thai Binh Province have arrested 27-year-old Nguyen Huu Duong, a local resident, on suspicion of robbing and murdering a gold shop owner in Hanoi.
This morning, police moved Duong from his home province of Thai Binh to Hanoi for interrogation and the provincial police handed over the case to the Hanoi Public Security Department.
Previously, the police had sent out images of the suspect, recorded on the Vung Bac Gold & Silver Shop camera, to all provinces and the media.
Duong was born in 1985, and was working in the Trang An vegetable oil company in Ha Dong District in Hanoi, and had just left for his home town on the day of the murder.
His departure from Hanoi fully coincided with the time the murder took place.
On the evening of Feb 18, the Dong Hung police came to persuade Duong's family to reveal the truth. Knowing that he could not hide any longer, Duong gave himself up to the police and confessed to the crime.
According to Duong's confession, he had borrowed VND30 million from his father and 3 taels of gold from his father-in-law. When the time came to return the loan, he thought of a robbery plan to clear his debts.
Acording to the police, at 4.42 pm on February 16, Duong went into the Vung Bac Gold & Silver Shop and asked the 55-year-old owner Nguyen Thi Bac to show gold which he wanted to purchase.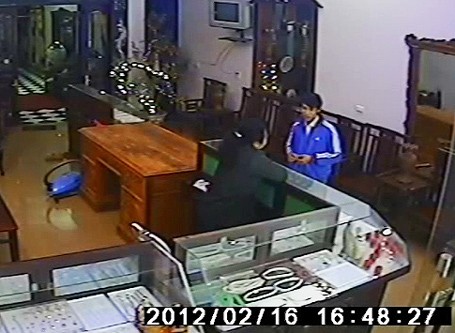 Nguyen Huu Duong's image recorded on the Vung Bac Gold & Silver Shop camera. (Photo:Laodong)
While Bac turned around to weigh the gold, Duong asked her to show way to the restroom.
When she took him through her living room towards the restroom, Duong suddenly covered her mouth and strangled her, holding a knife to her throat.
Bac struggled violently, so Duong pushed her to the ground and stabbed her many times in the neck, chest and back.
Afterwards, he tried to open the glass counter with Bac's key to steal the gold and jewellery items, but failed.
He tried to break the counter with his elbow but didn't succeed either. Duong then snatched the gold necklace worth VND2.8 million ($140) from Bac's body and fled on a motorbike. Bac later died from loss of blood.
Police found his glove at the crime scene, which he dropped as he fled to his home in Dong Cuong Commune in Dong Hung District in Thai Binh Province.