Media representatives throughout Viet Nam on Monday met in Ha Noi to review the revised Press Law and suggest ways it better serves the work of journalists.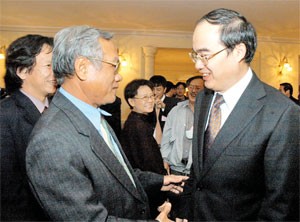 Deputy PM Nguyen Thien Nhan (R) talks with a delegate at the meeting December 24
Eight years after the Press Law came into effect, the national press has seen dramatic developments in both the industry's quality and quantity of production, now with some 702 press agencies and 15,000 card-carrying journalists nationwide.

Notably, while online publications have been known in Viet Nam since 1997, today there are 10 online press agencies, 130 online editions of state newspapers and thousands of websites.

Media representatives said the media has fulfilled its role in communicating State and Party policies as well as meeting people's needs for information, though bad practices among journalists and media agencies, like publishing false information or violating the Press Law or people's privacy rights, were acknowledged.

Representatives argued changes to the Press Law were needed for the management of new media, like electronic newspapers, websites and blogs.

They agreed on the need for income tax regulations for media organizations as well as more specific definitions of their duties and responsibilities against those of advertising and PR agencies.

Deputy Prime Minister Nguyen Thien Nhan directed the representatives to seek ways to improve the qualifications of journalists and media managers, improve the quality of the media's guidance of society, and facilitate the operation and development of new media.