The Ministry of Culture, Sports and Tourism has warned businesses nationwide about a new rule taking effect June 30 that using pirated computer software can be fined up to VND500,000 million (about US$28,000).

On May 26 in Hanoi, ministry inspectors came to 53 companies in the capital to deliver a notice about the new rule. On May 21-22, they did the same at 29 companies in Ho Chi Minh City.

The notice asks all businesses, companies and organizations to check and send a report to ministry inspectors within 20 days on the number of computers and software programs being used as well as their licenses.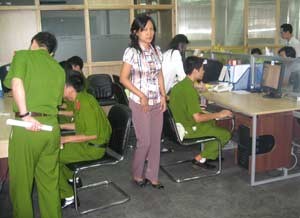 Inspectors from the ministries of Public Security, and Culture, Sports and Tourism check over computer software piracy at online game provider Vinagame in Ho Chi Minh City late Feb. 2009 (Photo: Thinh Khanh)
The protection of intellectual property rights has gained government attention in recent years. Since Vietnam became a World Trade Organization in early 2007, the government has intensified crack-down on computer software piracy.

The campaign against software copyright infringement in the country is still on its long way and needs more awareness of respecting copyrights of individuals, businesses, and organizations.