A series of misconducts in building roads and bridges, together with wrongdoings in personnel management, have been found out at the Ministry of Transport.

Former deputy minister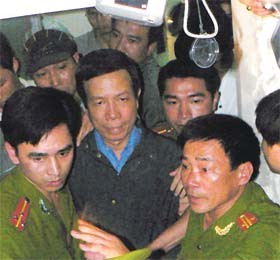 Former deputy minister Nguyen Viet Tien (in black) arrested in early April 2006

An official at the Ministry of Transport's Personnel Department said former deputy minister Nguyen Viet Tien, who was arrested in early April 2006, had short-listed ministry officials who would have no real jobs to do when he becomes the Transport Minister. Tien also wanted to give those having close relations with him well-paid jobs at the ministry and its powerful companies.
The personnel official said this is why many wrongdoings have been reported from the ministry. When State inspectors wanted to perform their duty, they had to wait for a nod from the minister or a deputy minister, and ministry leaders never punished their subordinates for their offences.
For example, State inspectors had found out many wrongdoings by Project Management Unit 18 (PMU18) of the ministry in building Hoang Long Bridge in Thanh Hoa Province and upgrading different national highways. The inspectors proposed that the general directors of PMU18 take responsibility for these wrongdoings but only in vain. And while these directors got job promotions, officials who are not on their sides were punished. For example, Mr. Pham Tuan, former general director of Civil Engineering Corp. 5, and Mr. Nguyen Lai, former general director of the central region's Airports Authority were both dismissed from their job.
Former minister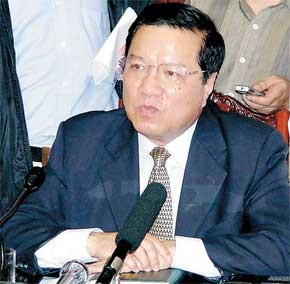 Former Transport Minister Dao Dinh Binh
During his recent meeting with the ministry' leaders, Prime Minister Phan Van Khai told them to learn lessons from job promotions for ministry officials. Former Minister Dao Dinh Binh admitted to the PM that some officials had acted like "crazy people."
Former deputy minister Nguyen Viet Tien, with his power, made his nephew Nguyen Ngoc Long deputy general director of PMU18, and put his secretary Nguyen Viet Bac into the position of a deputy general director of Vietnam Expressway Development Co. He also made his daughter the office manager of a consulting unit of PMU18 with a monthly salary of thousands of US dollars. Though Bui Tien Dung is not one of Tien's relatives, he had helped Tien a lot for a long time; and therefore when Tien became deputy transport minister in 1998, Dung replaced him as PMU18 general director.
Notably, many people have denounced wrongdoings by Former Minister Dao Dinh Binh in allocating jobs in Viet Nam Railway Corp. to his relatives.
Besides, Mr. Binh was abusing his power when promoting Mr. Nguyen Huu Bang to acting general director of Viet Nam Railway Corp., while the right person to make this decision is the Prime Minister. The Central Committee for Personnel Supervision had worked with Mr. Binh on this misuse of power.
Rumor has it that while he was working in the railway industry, Mr. Binh made many decisions in favor of himself. For example, when he was general director of the Union of Viet Nam Railway, the Ministry of Transport wanted to set up a bureau for railway administration but he vehemently rejected the idea in August 2000. When he became the Transport Minister later, he decided to set up the Railway Bureau of Viet Nam and appointed a person of his acquaintance to bureau chief. The official used to be an office manager when Mr. Binh still worked at the Union of Viet Nam Railway.