The National Assembly's Social Affairs Committee has reported that a new bill on labour safety and hygiene is needed to ensure better protection for workers in both formal and informal sectors.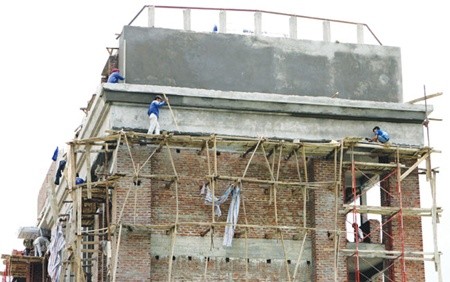 A baby gets a routine health check at Nhi Dong II Hospital, HCM City. Children diagnosed with pneumonia need to be hospitalised for immediate treatment. — VNA/VNS Photo Phuong VyConstruction workers perform dangerous tasks at height without safety equipment. Work-related accidents hospitalise 160,000-170,000 and kill 1,700 people every year in Viet Nam, said the Ministry of Health. — VNA/VNS Photo Tuan Anh
In discussions held on the report yesterday, Pham Thi Hai Chuyen, Minister of Labour, Invalids and Social Affairs (MoLISA), said that the bill aimed to ensure worker's safety and health, especially of those working in areas with high risks of work accidents and occupational diseases.
Promulgation of the bill will also promote sustainable development of enterprises by reinforcing the rights and responsibilities of employers and employee in ensuring safety and hygiene, She said.
The bill, with seven chapters and 94 articles, covers workers with formal as well as informal employment, and regulates State management of labour safety and hygiene.
The report said that the law's provisions should aim to prevent work accidents and repair damage to workers' health by minimising risks at workplaces.
NA Social Affairs Committee chairwoman Truong Thi Mai emphasised the need for the bill to cover workers in the informal sector, noting that it accounts for about 60 per cent of the national work force.
"The bill should have specific regulations and policies that encourage workers without labour contracts to adhere to safety and hygiene standards, especially in high risk areas," she said.
The report said current policies that support workers in dealing with occupational hazards only aim to repair damage instead of providing risk prevention measures or alternative jobs for people who suffer workplace accidents or contract occupational diseases.
According to the Ministry of Health, workplace accidents hospitalise 160,000-170,000 and kill 1,700 people every year.
NA scrutinises draft
Also yesterday, NA deputies discussed the draft revised Law on the Viet Nam Fatherland Front (VFF), with a focus on the front's supervision and social criticism role.
Many lawmakers said the draft extended the scale and subject of the VFF's supervision activities in order to institutionalise the Party's Platform on national construction in the transitional period towards socialism while cementing the 2013 Constitution.
However, several deputies noted that the stipulations on the VFF's supervision functions did not differ much from those of elected bodies.
They called for more detailed stipulations on the front's supervision in the draft law.
Regarding the VFF's social criticism function, Deputy Huynh Minh Thien from HCM City said the front's social criticism should not be limited to draft laws, policies and projects, but also extended to existing legislation.