The Investigation Police in Ho Chi Minh City have launched a nationwide hunt for Tran Anh Tuan, boss of Gucci-Milano store, who is currently absconding after being charged with smuggling of goods.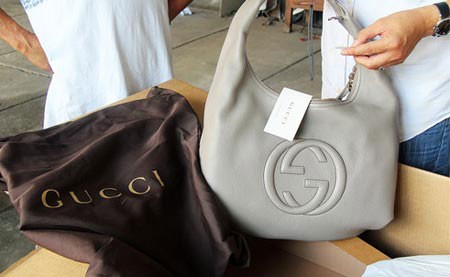 To dodge import tax, Tuan claims these fashion products are made in China
Vietnamese police have also asked Interpol to launch an international hunt for Tran Anh Tuan, alias Tuan Tran, 53, who is an American citizen.
According to the police, Tran Anh Tuan was running a smuggling ring in clothing and accessories such as belts, scarves, shoes and bags from European countries into Vietnam.
Tuan wanted to avoid paying import tax for authentic Gucci products and hence routed shipments from Italy through Hong Kong (China) and passed them off as Chinese fakes.
Le Hong Duc, 35, an employee of the Gucci-Milano store, helped him in these smuggling ventures. In November 2012, via a legal import company, Tuan imported a large quantity of fashion products of Gucci and Dolce & Gabbana brands. However, in the customs declaration, he claimed they were made in China.
Police later detained four trucks that were transporting these products to the basement of Sheraton Hotel at 88 Dong Khoi Street in District 1.
On checking, the difference in quality of the products was apparent. The consignments consisted of 1,253 fashion items including clothes, belts, scarves, shoes and bags of Gucci and Dolce & Gabbana brands worth VND16 billion. The consignment owner is compelled to pay tax of VND552 million (US$26,219) on the said amount.
Police detained Le Hong Duc on April 2, 2013 for smuggling. Two other customs officers, Nguyen Buu Qui, 51, and Nguyen Van Sang, 46, were prosecuted for negligence at work, in August 2013.