Another online investment fraud ring, a copycat of the notorious Colony-Invest scam, was discovered in the southern city of Can Tho where 500 students in Can Tho University have fallen prey to the scheme.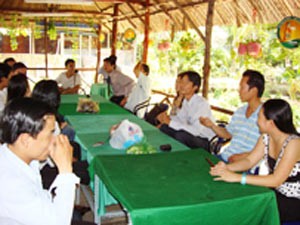 A meeting of Colony members
Three suspects involved in the fraud include two female students from the university, Dang Thi Thuong, Nguyen Phuong Thuy and Phan Thi Van.

The trio established a connection with three representatives of the Hanoi-based Savicom Joint Stock Company and the Tri Viet Finance Investment Joint Stock Company, along with Thai My Tam, Lai Ngoc Duy and Tran Van Lanh, to lure more victims into depositing money for unrealistic returns.

Reports from police have it that the trio and their illegal ring have tricked 500 students in Can Tho University to deposit some US$20,000 via their website www.gso-media.com.

Further investigation is being carried out by the Can Tho City Police to find out more about the fraud ring's operations and violations.

According to the HCMC People's Committee, all online investment schemes accessible in Viet Nam are unauthorized as no license has yet been given to this type of operation by the State Bank.

The Committee also asked the State Bank to publicize as much and raise public awareness about online investment frauds accessible here.

Related articles:
Colony Invest Conspirators to Stand Trial in Ha Noi
More from Online Fraud Ring Busted in Northern Viet Nam
More Colony Invest Fraud Rings Members Captured
Police Crack Down on Multi-million-dollar Fraud Rings
Something for Nothing Like Never Before