The Ho Chi Minh City Police's Investigation Agency on Feb. 26 caught Nguyen Dan Que red-handed keeping and distributing documents calling for overthrowing the regime and took him into custody.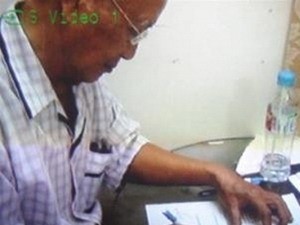 Nguyen Dan Que while being arrested for keeping and distributing documents calling for overthrowing regime (Photo: Tuoi Tre)
The agency said on Feb. 27 they had received alert from the people on Que's act. An urgent check at Que's home revealed over 60,000 documentary titles of anti-State content in his computer. The police also seized many documents related to Que's anti-regime activities, including one entitled "Doctor Nguyen Dan Que's appeal to all people", which called on the public to rise up against the regime.
According to the police, Que admitted and signed the confirmation on documents that he compiled on Feb. 24. He also admitted to having distributed them to a number of reactionary and hostile elements in the country and abroad with the aim to call for strikes to bring down the regime.
Que, who was born in 1942 with permanent residence at 104/20 Nguyen Trai Street , Ward 3, District 5, Ho Chi Minh City , had three record s of previous convictions and offences for violating national security. Although the Party and State have shown clemency to him several times, Que failed to redeem his faults and continuing anti-regime activities.
The agency affirmed that the search of Que's home and his arrest were conducted in line with the Criminal Procedure Code of the Socialist Republic of Vietnam. The agency is holding him in custody for investigation in line with the law.
According to the agency, Que's action is very dangerous and directly threatens the stability and strength of the people's administration.
The detection, prevention and dealing of Que's violation of the law is necessary and aimed at ensuring political stability and contributing to socio-economic development in Ho Chi Minh City.