Yesterday, the Police of Can Tho City arrested an HCM City online fraudster who persuaded a woman to part with VND80 million so she could get a US green card.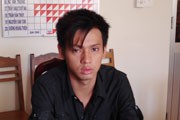 Huynh Ngoc Thanh (Photo CA Online)
Via online chats, the man said that he was an overseas Vietnamese and ready to sponsor the woman to the US as his fiancée if she agreed to pay him millions of dong to cover sponsorship fees.

The victim, 'L', 28, resident of Ninh Kieu District, said that in early February she met a Vietnamese in an online chatroom, whose nickname was cavinnguyenhoang.

Hoang introduced himself to L and said he was a single and living in US.

After a short time, Hoang told L. that he had fallen in love with her and would sponsor L for a US green card as his fiancée, provided that L paid him VND80 million ($ 4,700) to cover fees.

L. was asked to transfer the money to Huynh Ngoc Thanh's account at Dong A (East Asia) Bank. Hoang said that Thanh was his nephew living in Ho Chi Minh City.

Convinced by Hoang, L transferred VND58.5 million ($3,350) to the account.

On February 25, L's family found that she had been cheated by Hoang as Hoang and Huynh Ngoc Thanh were the same person.

They decided to set a trap for Thanh by inviting him to Can Tho to receive the remaining money. As soon as Thanh entered L's house, her family phoned the police.
The man was arrested and charged with fraud and deception.

At the police station, Thanh said that he had used the money to buy a Suzuki scooter, a tael (1.3 ounces) of gold and other personal expenses.

The investigation continues.