The amended Housing Law should clearly stipulate that overseas Vietnamese only have the right to own one house for living, not for opening offices and trading real estate, Tran Du Lich, director of the Economic Institute of HCM City said.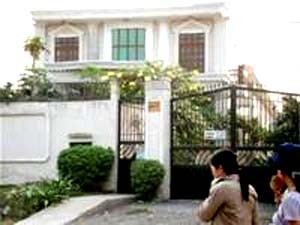 A house owned by an overseas Vietnamese in Binh Tan District, HCM City. The government is discussing the issue of property rights for overseas Vietnamese. (Photo: Tuoi Tre)
The NA Economic Committee held a meeting February 18 to take opinions on the draft law that amends and adds Clause 126 of the Housing Law, and Clause 121 of Land Law before submitting it to the NA for its May meeting.
According to Clause 126, people allowed to own houses in Vietnam would be broadened compared with current legislation.
These include people having Vietnamese citizenship who do not need to come back Vietnam to work, as is the case currently. The clause also includes people having specialized skills that Vietnam needs, people getting married to Vietnamese and people having visa exemptions.
Chairman of the Association for Small and Medium Sized Enterprises, Cao Sy Kiem, said that the draft law opens opportunities for many people while it does not stipulate how many houses they are permitted to own.
"This is a gap that some real estate investors may take advantage of", he said.
Many delegates from the NA Economic Committee suggested there should be careful consideration of overseas Vietnamese being allowed to buy property.
Amending and adding Clause 126 of Housing Law and Clause 121 of Land law are very important and necessary to reduce problems related to houses in Vietnam owned by overseas Vietnamese, Deputy Chairman of the National Assembly Nguyen Duc Kien said.
The amendment should be practical and prevent speculation, he added.