Prime Minister Phan Van Khai decided on March 29 to suspend Deputy Transport Minister Nguyen Viet Tien for his dereliction of duty and wrongdoings related to the Ministry of Transport's Project Management Unit 18 (PMU18).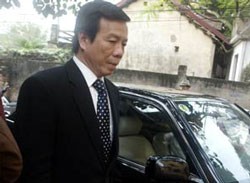 Nguyen Viet Tien
After receiving the decision, Tien said he has made a proposal to the Prime Minister to have a vis-a-vis talk with Transport Minister Dao Dinh Binh about his responsibility in the PMU18 scandal.
Police have been questioning him over bribery and corruption allegations.
Tien has been under fire for many construction projects that turned out to be of poor quality and for unlawfully lending cars belonging to state agencies to other agencies and individuals.
Police said they received an anonymous letter from a man claiming to be working for the Ministry of Transport. The letter says Tien and Nguyen Viet Bac, deputy director of the Vietnam Expressway Corporation, together have assets worth about US$350 million. Bac was arrested for gambling in February 2006.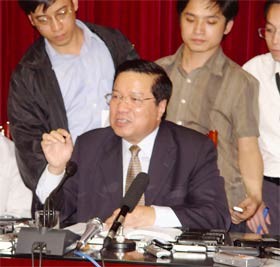 Transport Minister Dao Dinh Binh answers media questions on March 29 in Ha Noi
Tien was promoted to deputy minister in 1998 as the PMU18 general director. Bui Tien Dung, who replaced him at PMU18, was arrested in January 2006 for gambling and is facing corruption and bribery charges.
After Tien was suspended on March 29, 2006, Transport Minister Dao Dinh Binh told reporters that all three transport ministers Bui Danh Luu, Le Ngoc Hoan and him – from 1995 till now – should be responsible for the PMU18 scandal.
Mr. Binh said he has reported to the Prime Minister his mistakes and what he has achieved for the Government. "I'm willing to take punishments from the Party and Government."

Related stories
Police Propose Suspension for Deputy Minister
PMU18 Scandal Updates