The Police Bureau for Investigation on Social Crimes has reported its latest findings about the scandal at Project Management Unit 18 in the Ministry of Transport.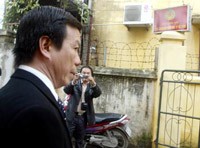 Deputy Transport Minister Nguyen Viet Tien reports to C14
A source from the bureau, coded C14, said Le Tien Thong, director of Thai Binh Co. Ltd in the northern province of Hai Duong, has admitted his wrongdoings in trading three farms in the province's Chi Linh District.
He said he made the deals with former PMU18 planning manager Pham Tien Dung, former PMU18 deputy general director Do Kim Quy, and Deputy Transport Minister Nguyen Viet Tien's relatives.
The police source said such trading is banned because the farms are part of a pine forest. However, Thong acted as a broker to sell 17 hectares of pine forest to the people. Former PMU18 deputy general Quy said to the police he bought part of the forest to build a house for his retirement.
Deputy Transport Minister Tien has denied his ownership of a seven-hectare farm inside the 17 hectares, saying that the owner is his son-in-law Nguyen Nhat Anh. C14 officials have been questioning him for days.
C14 officials are also working with Transport Ministry leaders about their responsibilities in promoting Bui Tien Dung to PMU18 general director.
The investigators said PMU18 has murky ties with many companies in building roads and bridges. The police also have evidence that the companies' bosses have offered bribes in a bid to avoid prosecution for Dung, who was arrested in January 2006 for charges of gambling and corruption.
A source said Ton Anh Dung, director of Hue City-based Thai Binh Duong Company, has offered VND2 billion (nearly US$126,000) bribes.
Another person is Nguyen Quyet, a former official of the Ministry of Agriculture and Rural Development. The police said Bui Tien Dung gave him VND35 million to work with some reporters in Ha Noi to change their reporting about Dung for the better.
The police said before his arrest in January, Bui Tien Dung had asked his men to offer bribes in a move to avoid prosecution. The Police Bureau for Investigation on Social Crimes (C14) says some of the persons will be detained within days.
Related story
Two More Arrested for Bribery Charges