The Hai Phong City Police arrested a man May 13 who sold a local woman and her son to a human trafficking ring in China a month ago.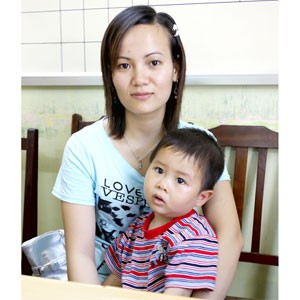 Do Thi Hong Nhung and her 2-year old son
Twenty-two year old Pham Anh Tuan, of Ha Long City, Quang Ninh Province, told police that on April 11, he invited Do Thi Hong Nhung, 24, from Hai An District, Hai Phong Province, and her two-year old son, Hieu, to visit China with him.

When they arrived in China, Tuan led Nhung and her son to the home of his aunt, Dinh Thi Hai in Linkong, Guangdong, some 500 kilometers from the Vietnam - China border. 
 
Hai then sold Hieu to a human trafficking ring for VND15 million (US$843). The ring then sold Hieu to a childless couple in Zhanjiang City, 167 kilometers from Guangdong.
 
Tuan returned to Vietnam and tricked another young woman, Nguyen Thi Hang, 18, from Thanh Hoa Province. 
 
Tuan took Ms. Hang to Lingkong and handed her over to his aunt, who sold Hang to a brothel for VND15 million.
 
On May 5, the Hai Phong City and Mong Cai Province police found Nhung in Guangdong. On May 12, they found her son.
 
Nhung and her son were returned to Vietnam on May 12.
 
After being sold to the brothel, Hang managed to run away and returned to Vietnam shortly afterward.
 
Tuan also said that he was about to take another 25 year old woman to Trung Quoc when he arrested.