Yesterday, the HCMC Investigative Police Bureau against Criminals of Social Order (PC14) coordinated with the Police of District 11 and the city's Socio-Cultural Inspection Team to bring the whip down on a sex and Ecstasy consumption ring, both organized by the Bao Anh Hotel of District 11.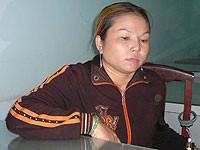 Nguyen Thi Yen, leader of Bao An Hotel's sex ring (Photo: Nguoi Lao Dong)
Another sex ring, thinly veiled in the form of illegal massage services, was also uncovered in just a single barber shop in District 1.

As to the sex and Ecstacy ring, Investigative Police report that when they raided in the hotel, three prostitutes were caught copulating with three local men, in a socially evil sort of way. 

The prostitutes claimed that every time a girl sold sex to a customer, he would pay VND300,000-500,000. Apparently women do patronize the place.

Once paid, the girl employed would in turn pay from VND150,000-200,000 to one Nguyen Thi Yen, 37, the madam in charge.

At Yen's home, Police found four other prostitutes and a driver who delivered girls to hotels in Districts 6, 10 and 11, for sex. 
Through investigations, the Investigative Police determined Yen to be the leader of hotel's ring.   Yen, it turns out, was also being sought by District 11 Police since October 2006 on charges of assault and robbery. 
She was arrested the same day.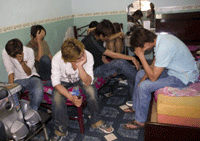 Persons involved in the Ecstacy Consumption ring at Bao Anh Hotel (Photo: NLD)
Also at the Bao Anh Hotel yesterday, the Police broke into the hotel's Room 401 and found five persons dancing hysterically to ear-splitting tunes.
Police seized ten heart-shaped tablets, a bag of crystal methamphetamine (Ice),  set of amplifiers and a load of CDs.
Among the five, Ly Van Hoang, 21, of District 6, is alleged to be the one who supplied drugs.
Police then raided Room 201 where they found two women and five men having sex together in drug-induced state of undeserved euphoria.
Also yesterday, the HCMC Socio-Cultural Inspection Team carried out a check at the Hoang Duc barber shop on Nguyen Phi Khanh Street, District 1, owned by Trinh Hong Duc. The shop was found offering illegal massages along with shaving services. 
When police opened an unnumbered room on the first floor of the shop, a female "barber" was found excitedly fondling a male customer.

Duc was charged with hiring employees without taking out insurance policies for them, preparing inaccurate employment contracts for tax invasion and offering massage services without license.

In related news, at the Dene Savanh-Lao Bao international border gate between Laos and Viet Nam yesterday, the Security Service of Savannakhet City coordinated with Police Forces against Drug Criminals of the Border Headquarters of Quang Tri Province to arrest two criminals transporting 8,000 tablets of Ecstasy by motorbike from Laos into Viet Nam.

The two Laotian criminals were put in temporary detention.

According to the Border Headquarters of Quang Tri Province, the arrest of the two criminals has broken a link of a big drug ring that transports heroin from Laos into Viet Nam.