Police in the northern highland province of Tuyen Quang arrested one of two robbers on April 11 who had escaped after looting a jewellery shop on Tuesday, said Hua Kien Thiet, head of the Police Department.
Tuyen Quang Province police had been hunting for this one robber who had escaped after robbing the jewellery shop, while the local policemen and residents in the neighboring Ha Giang Province had managed to catch the other suspect when he hid in Vo Diem Commune in Bac Quang District in Ha Giang Province, he added.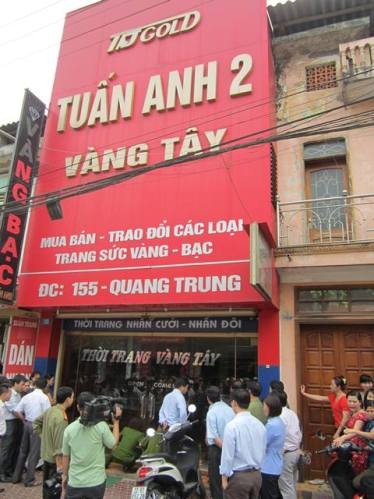 The scene of the robbery (photo Zing.com)
The name of the robber caught is Tran Van Ha, born 1991, from Yen Son District of Tuyen Quang Province.
According to a police report, witnesses saw two men wearing helmets and dust masks enter the Tuan Anh 2 jewellery shop on Quang Trung Street in Tuyen Quang town around 1.20pm on April 10.
The two threatened the shop owner Nguyen Manh Dung with a knife and a gun and then stabbed him when he resisted and tried to call for help.
Dung was rushed to Tuyen Quang hospital where doctors reported that he is no longer in critical condition.
The two robbers tried to run away when many local residents arrived, but one robber was caught, giving his name as Dang Huu Hanh, born 1978, from Go Cong District in the southern province of Tien Giang.
While Hanh was arrested, Ha managed to get away at that moment.