Police have arrested seven people of a ring illegally transporting Vietnamese women to Malaysia.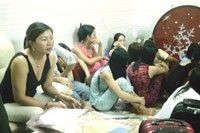 Tieu Lien Huu (L) witnesses police raid at her house in Ho Chi Minh City
On March 27 evening, police raided different venues in Ho Chi Minh City and neighboring Tay Ninh Province, arresting seven people including Tran Thi My Phuong, Phan Van Long, Tieu Lien Huu, Ly Thi Dao, Nguyen Thi Nguyet, and Nguyen Van Hau.
At the venues, police discovered 33 women aged 17 to 25 waiting for women traffickers to finish procedures for them to go to Malaysia. 
Police began investigation on the women trafficking ring in early 2006 after a young woman in the Mekong Delta province of Tien Giang told Tien Giang Police that she was a victim of the ring, being transported to Malaysia to work as a sex worker. Most of the victims are women from southern provinces and were sold to Malaysia as sex workers, according to police.
Police said Tran Thi My Phuong, a 34-year-old woman from the southern province of Ca Mau living in Ho Chi Minh City now, is an important part of the ring. She has gone to Malaysia more than 100 times to sell Vietnamese women, making them sex workers.
Investigators doubted that she has also sold Vietnamese women to Taiwan because when she was arrested, she and her Taiwanese husband, together with two young girls, were preparing to go to Taiwan.
Investigation in the case is still ongoing.