More than 200 people, including 55 women, were detained in a police raid at Friendly Club, 31 Dien Bien Phu St., Minh Khai Ward, Hong Bang District, Hai Phong on Saturday.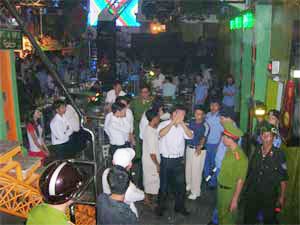 A scene of the raid at Friendly Club.
The raid was made at 11 p.m. by the Hai Phong police, the maritime police and the Public Security Ministry.
Of the detainees, 10 said they are football-players of teams with high rankings in the V-League.
The police also detained the manager of the club, Pham Hai Hung, 36, of Phuong Luu Ward, Hai An District, Hai Phong.
Police seized 10 ecstasy tablets, 22 cigarettes of marijuana, two packs of ketamine, four packs of heroin and many bottles containing drinking water mixed with narcotics.
Those arrested were taken to the headquarters of Maritime Police for identification and drug testing. Urine tests showed that 37 people were positive for drug use, including five women.
The police sent 25 detainees, including three women, to detoxification centers and continue to detain the rest for investigation.
The police have identified two drug ringleaders at the club, Le Duc Hung, 22, and Pham Van Khanh, 35, both residents of Hai Phong.