Hanoi police have smashed a ring counterfeiting qualifications in a case believed to be the largest so far.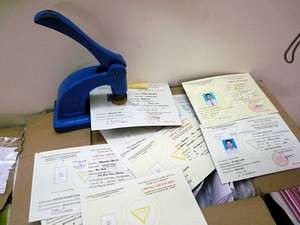 Some fake academic qualifications made by UHDEM (Photo: Nhan Dan)
On March 6, 2009, the Hanoi Police was informed by the Ministry of Public Security's Cultural Security Department that Vu Van Hai, 24, of Hanoi, had allegedly offered various qualifications for sale on the Internet.
After a period of investigation, on May 18 the police charged Hai with selling two certificates in IT and a foreign language.
Based on Hai's testimony, the police later arrested Ho Hoai Nam, 39, and Bui Thanh Tuan, 29, in Hanoi.
Tthe police seized 12,000 various samples of degrees and certificates, thousands of English exam papers and many records related to their counterfeiting.
The police also detained a color printer and other instruments allegedly used for counterfeiting false qualifications
Nam and Tuan are alleged to have begun counterfeiting qualifications in March after setting up a front, the Union of Human Resource Development and Enterprise Management (UHDEM). The office was located at 26 Le Dai Hanh St, Hai Ba Trung District, Hanoi.
Nam was "director" and Tuan his "deputy."
It is claimed Nam had a man, named Pham Anh Hung, design samples of qualifications that were exact copies of those issued by the Ministry of Education and Training.
Nam had Hung print 10,000 certificates of IT and foreign languages and 3.000 practitioners' certificates
UHDEM sold fake certificates through Truong Cong Que, who acted as a distributor for the ring. Within one month, they sold about 700 academic certificates.
The police said they have found 16 individuals involved in the ring.
The investigation continues.