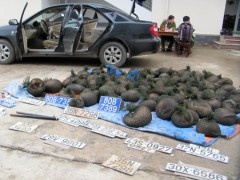 Pangolin species have been rescued from illegal traders (File photo)
Police in Quang Ninh Province on April 23 detained a passenger car driver when he was transporting 110 kilograms of bearskins and 36 kilograms of bear legs.
Nguyen Viet Thanh, 38, the passenger car driver, from Nghe An Province failed to show the police any documents to prove the origins of the goods.
On the same day, police stopped a car in Nghi Loc District in Nghe An Province and seized 304 kilograms of live pangolin, (an endangered wild life species) and handed it to the Department of Forest Protection in the province for further investigation.