The Government considers the anti-corruption fight vital to national development and encourages press organizations to participate in it fully within the law, a senior official said on Tuesday.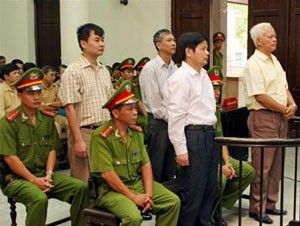 Nguyen Van Hai (L, first) and Nguyen Viet Chien (L, second). (Photo: VNA)
"We know the danger of corruption very clearly and consider it as a national danger. Now, anti-corruption is one of the most important duties in developing the country.

The government always encourages press organizations to participate in anti-corruption totally, strictly and lawfully", said Le Dung, spokesman for the Ministry of Foreign Affairs.
He was responding to a question from a Sai Gon Giai Phong reporter who had asked if the recent trial of two journalists Nguyen Viet Chien and Nguyen Van Hai would affect the press' role in the fight against corruption.
The Ha Noi People's Court on October 15 found two former journalists of Thanh Nien and Tuoi Tre newspapers, Nguyen Viet Chien and Nguyen Van Hai, guilty of "abusing democratic freedoms to infringe upon the interests of the state, and the legitimate rights and interests of organizations and individuals" under Article 258 of the Penal Code.

Chien was sentenced to two years in prison. Hai received one year's probation.

Dung noted the trial was held in a public court with the attendance of both domestic and foreign reporters.