The People's Court has sentenced 36-year-old driver Tran Van Truong to seven years in prison on June 2, for violating traffic laws that led to the death of 19 passengers and one missing last year.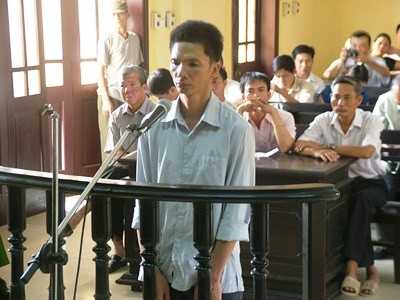 Driver Tran Xuan Truong at the court
The court in Nghi Xuan district in the central province of Ha Tinh also banned Truong from driving for five years after completing the prison sentence.
Truong was driving a bus on October 17 last year along Highway 1A in Nghi Xuan district when floodwaters began to rise, inundating the Highway road. Instead of being cautious, he headed the bus into turbulent waters causing it to be swept away by strong currents, drowning 20 passengers.
The court stated that Truong ignored warnings and drove the bus into the flooded area, risking the lives of 38 passengers.
Local authorities said Truong and 17 others had managed to get out by breaking the front windows of the bus and swimming ashore by clinging on to some power poles.