The Notary Law that comes into effect on the first of July will allow private individuals to establish notary offices. Sai Gon Giai Phong spoke with Ms. Ngo Minh Hong, deputy director of the Ho Chi Minh City Department of Justice, about the new law and its benefits.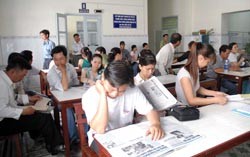 So many people wait at the No.1 notary office
Ms. Hong favors the idea of private notary offices to give the state some competition in this area and to ease the worsening congestion and backlog at the public notary offices.

Initially the new law will only permit the opening of private notary offices but will not confer any certifying rights or allow related operations.

Ms. Hong says the most important thing is that civil transactions be secure for the parties involved.

Because the new law does not come in until July 1, she says, the Justice Department will set up notary offices in Binh Thanh and District 6 to handle the increasing number of people wanting the services of a public notary.

Ms. Hong says that the rising demand for notary services is a clear indication that the private sector should be involved.