As the Lunar New Year holidays are coming and smugglers beginning to sneak in firecrackers from China, northern Viet Nam's Quang Ninh province recently requested customs, border troops, police and market management teams urgently crack down on firecracker smuggling.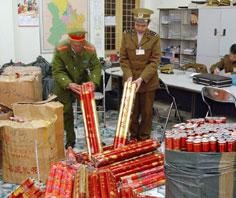 The police seize the smuggled firecrakers
According to the Quang Ninh Province People's Committee, from the beginning of August to November 25 this year, local border troops, police and market management teams arrested 65 smugglers in 72 cases of illegally transporting firecrackers from China into Viet Nam.
Almost 12 tons of firecrackers of all kinds have been seized. Thirty-five smugglers of the 65 smugglers apprehended have already been prosecuted.
To comply with Prime Minsterial Directive No. 1721/CD-TTg, dated November 13, 2007, regarding banning the production, transportation, storage and setting off of any kind of firecracker, the Quang Ninh Province People's Committee urged citizens to help officials detect and smash any instance of firecracker smuggling.
Those in charge have been directed to uncover any site illegally producing or trading in firecrackers and prevent smugglers from storing firecrackers or transporting them into Quang Ninh.
Local authorities of any province or city which does not carry out effective measures against any act that producing, trading, transporting, storing or using firecrackers of all kinds will be charged and subjected to appropriate penalties.