Police continued on October 23 to search for the body of the unfortunate woman who was thrown into the Hong River by a cosmetic surgeon after she died in a botched cosmetic surgery at his beauty salon.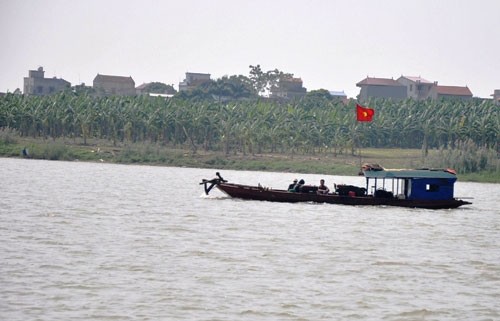 The boat is hired by victims' relative to search for the body (Photo: Thanh Nien)
Senior Lieutenant-Colonel Nguyen Van Cuong, Deputy Chief of River Police Station in Hanoi, said although police had made a concerted effort to find  the body of Le Thi Thanh Huyen on October 23 and the victim's relatives also had hired motorboats to search for her body in the river, so far there has been no trace or clue to her body.
Police in Hanoi called on 10 staff of Cat Tuong Beauty Salon, including the wife of Nguyen Manh Tuong, the doctor accused of throwing his client's body into the river, to obtain their testimonies.
Police made a raid in the cosmetic surgeon's clinic and confiscated all documents, machines, electronic equipment, but did not discover anything relating to the case. The surgeon was quick to destroy all evidence before coming home.
In a press brief, leaders of Bach Mai Hospital in Hanoi where Dr. Nguyen Manh Tuong has been working for seven years said this case has badly affected the hospital's image.
The hospital has already suspended the physician from duty and has set up a mission team led by Nguyen Quoc Anh, Director of the hospital, to liaise with the police and the victim's family over the case.
Dr. Do Doan Loi, Deputy Director of Bach Mai Hospital, said that Tuong managed to continue working after throwing the client's body into the river as if nothing had happened. Loi added that the Hospital Management Board had been unaware that Tuong was running a private cosmetic surgery center outside of his hospital duties, because he is a trauma orthopedic surgeon not a cosmetic surgeon.
Tuong graduated from Hanoi Medicine University as a general practitioner, and later he learnt surgical skills and trauma orthopedic in Viet Duc Hospital and a hospital in HCMC. He started working at Bach Mai in January 2006.
Hospital leaders added that the Department of Health must be held accountable for the opening of the infamous beauty salon.
According to lawyers, police should find the victim's body for autopsy. If Huyen died before being thrown into the river, Dr. Tuong will not be charged for murder but for 'violating another's body' as per article 246.
Accordingly he will be sent to prison for a period of three months to two years or for one year re-education not detention. In addition, he will be prosecuted for unintentionally killing people by violating code of professional practice with maximum penalty of 12 years in prison.
In case the autopsy report says that Huyen was still alive or clinically dead when she was thrown into river, Tuong will face the murder charge and charged for hiding his crime with morally corrupt motives. The penalty could be either 12 years and above, life imprisonment or even the death sentence.

Related article:
Cosmetic surgeon throws body into river to destroy evidence