Vietnamese police Friday arrested Tran Van Khanh, CEO of State-owned Ha Noi-based Corporation for Agricultural Materials (CAM) for allegedly selling goods to certain private firms and immediately buying them back at higher rates.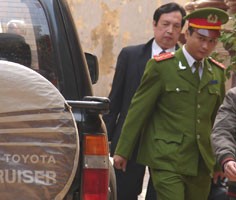 Tran Van Khanh was led to a police car (Photo: Lao Dong)
His deputy, Pham Van Hien was also arrested, both on charges of "corruption and mismanagement of state funds".
Police said Khanh, who was CAM's head for 13 years, fraudulently sold cheap to and bought dear from 10 private, favored companies, profiting the latter approximately VND17.6 billion (US$1.1 million) in 2002 and 2003.
Most notably, in October 2003 CAM imported 6,000 tons of urea fertilizers but instead of delivering them to its subsidiaries, CAM, under Khanh's orders, on the spot sold them to Thanh Loi Ltd Co for VND2.6 million per ton.
Immediately, Khanh signed another contract to buy back the very same consignment from Thanh Loi for VND0.13 million higher per ton, easily profiting the latter VND748.2 million.
Earlier in February the same year, CAM sold over 20,765 tons of urea to Nam Cuong Enterprise at VND2.29 million per ton and immediately bought the fertilizers back from a third company for VND2.45 million a ton.
In this deal, Khanh made CAM lose over VND3.2 billion to Nam Cuong.
With such methods, Khanh incurred a loss of over VND8.1 billion in 2003 alone, investigators said.
For comparison's sake, CAM itself posted a profit of a mere VND991 million in 2002.
While CAM's subsidiaries had to deposit money whenever they signed any purchasing contract with the parent company, Khanh exempted many private firms from this procedure. 
According to CAM's supervisory board, Khanh also orchestrated real estate transactions and equitization plans to enable some favored firms to pocket millions of dollars.
He was also charged with illegally disbursing VND2.2 billion in state funds to rent luxury cars for personal use and for lavishly entertaining guests.