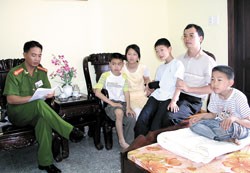 The file photo shows four Chinese children rescued last year by Vietnamese Police

The HCM City People's Procuracy, the prosecutor's office, has filed charges of human trafficking against seven people.

Since July 2005 they have allegedly been running a network that brought children from China into Vietnam and on to Cambodia through Tay Ninh Province. After arriving in Cambodia, they would pass the abducted children to another gang which would take them to France, according to the procuracy.
They allegedly trafficked 58 children on 18 occasions.