Seven Catholics involved in a protest over land at 178 Nguyen Luong Bang Street in Ha Noi's Dong Da District were given suspended sentences on December 8. Another defendant was given a warning.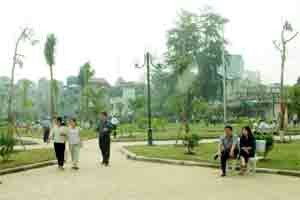 The disputed land has now been turned into a beautiful and green park
On August 15, after a service at Thai Ha Church, the parish priest asked parishioners to go with him to the Chien Thang Garment Company complex at 178 Nguyen Luong Bang Street to pray for the government to return the land to the parish, according to the indictment of the People's Procuracy at the yesterday trial.

About 20 minutes later, dozens of Thai Ha parishioners, including Ngo Thi Dung, Thai Thanh Hai, Nguyen Dac Hung, Le Thi Hoi, Le Quang Kien, Pham Tri Nang, Nguyen Thi Viet and Nguyen Thi Nhi, broke down a six-meter section of the wall surrounding Chien Thang Company. The defendants' act led the way for hundreds of people to illegally enter the company's grounds.

Parishioners then pitched tents, chopped down trees, lit a fire, leveled the grass, set up religious statues and pictures, prayed and sang anthems. They also put an altar on top of a water tank.

More illegal religious activities were held on the occupied land by the Thai Ha Parish priest and parishioners, the indictment said. Thousands of Catholics joined the prayers in the following days, causing frustrating traffic jams and chaos in the area.

At the hearing, Nguyen Thi Nhi, Nguyen Dac Hung,Thai Thanh Hai and Ngo Thi Dung denied any wrongdoing. But, after police produced evidence to show they committed illegal acts, they pleaded guilty.

Prosecutors said the defendants' illegal behavior was dangerous and they had badly affected national solidarity.

Taking into account the fact that defendants had acted on misinformation about the land ownership provided by the priests of the Thai Ha church, the jury decided to give the defendants light punishments for their offences.

The seven defendants charged with "destroying assets and causing public disorder" were given suspended sentences. Among them, Nguyen Thi Nhi received the heaviest penalty of a 15-month suspended sentence.

Thai Thanh Hai, who received the lightest penalty, was given a warning for "destroying assets and causing public disorder".

Official documents show that the land plot at 178 Nguyen Luong Bang was handed over to the state in the 1960s by the parish priests.

Thai Ha parish priests' claims for land use rights at the Chien Thang Garment Joint Stock Company were groundless, according to Article 1 of the National Assembly Resolution 23, the Hanoi People's Committee said.