On morning of April 4, the trial of Doan Van Vuon and accomplices involving the land acquisition case of his aqua-farm in Tien Lang District in Hai Phong Province continued for the third day.
Six of the defendants, namely, Doan Van Vuon, 50, Doan Van Quy, 47 (Vuon's brother), Doan Van Sinh, 56, and Doan Van Ve, 39, were charged with murder under Article 93 of the Penal Code.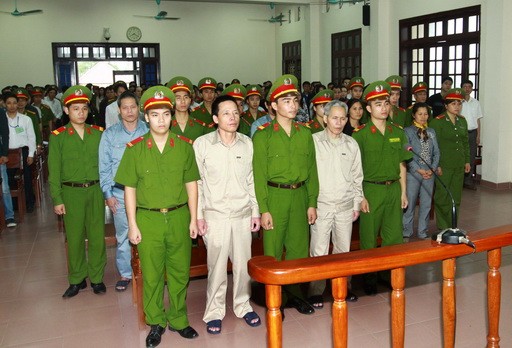 The defendants at the court trial.(Photo: SGGP)
Meanwhile, 43-year-old Nguyen Thi Thuong, Vuon's wife, and 31-year-old Pham Thi Bau, Quy's wife, were indicted for 'resisting on-duty officers' under Article 257 of the Penal Code. Thuong and Quy have been released on bail.
At the trial Vuon confessed he had discussed with his relatives about a plan to keep the land from being reclaimed. They later erected fences to block access to the land, bought shotguns and laid homemade landmines on paths leading to the land.
On January 5, 2012 when police officials were executing the forced land eviction by approaching the land, Vuon and his accomplices activated the landmines and opened fire on them, injuring seven members of the force.
At court, Vuon admitted to the charges and his younger brother, Doan Van Quy, told the court that he had filled four bullets with gunpowder to be used with the two shotguns. Quy said he also buried two liquefied petroleum gas (LPG) cylinders connected to fuses, but this act was mainly aimed to scare people away.
Quy admitted that he shot two bullets from a shotgun at the eviction force and that he was aware that such a firing could cause killings.
Representatives of Hai Phong City People's Procuracy suggested that the trial panel consider the extenuating circumstances for the accused.
According to the impeachment, Hai Phong City People's Procuracy sentenced Doan Van Vuon to five to six years in prison; Doan Van Quy to four to five years in prison; Doan Van Sinh to three to four years in prison.
However, Doan Van Ve may get a lighter sentence of about 24-30 months in prison.
Defendant Pham Thi Bau may get 18-24 months in prison but on probation; while Nguyen Thi Thuong may get 15-18 months in prison on probation, for acting against officials on duty.
The two women were assigned to local authorities and habitats' for monitoring and education.