Male model Le Xuan Vinh Thuy received a six month suspended sentence by the City People's Court on April 27, for smuggling and trading in Electronic goods brought in from Australia to sell in Vietnam.
Other defendants in the case were former air-steward Thai Anh Tien, 31, and a former employee of cable TV station HTVC Pham Tien Trung, 30, who received sentences of 18 months and one year respectively, on the same charge.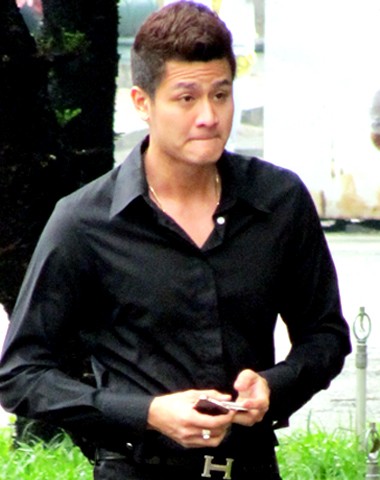 Male model Le Xuan Vinh Thuy
Meanwhile, Nguyen Minh Hoang (born 1963) and Nguyen Duc Vu (born 1975) each received five year imprisonment for smuggling electronic goods into Vietnam.
However, Vietnamese-Australian Do Thanh Lam, the ringleader of the smuggling ring has not been arrested so far.
As per the indictment, since 2007, Lam led the ring to smuggle electronic items from Australia to Ho Chi Minh City. He induced Nguyen Minh Hoang and Nguyen Duc Vu to bribe airport baggage handlers at customs at Tan Son Nhat Airport to allow goods to pass through without declaration and tax payment. Vu was working at Tan Son Nhat Airport in HCMC.
From February to June 2010, the group had successfully carried out 43 smuggling trips bringing in nearly 1,000 electronic products such as laptops, cameras and mobile phones, worth more than VND 6.5 billion (US$325,000).
All the smuggled items were later sold to Vinh Thuy, Thai Anh Tien and Pham Tien Trung. Though these men did not have business licences, they bought and sold the smuggled products to make an easy profit.
In court, model Thuy declared he had bought a total of 75 products from Hoang at cheap rates and then sold for a profit of more than VND10 million. When the items were discovered, Vinh Thuy surrendered the entire amount to authorities. The model was also fined VND5 million (US$250) and will undergo one year probation after the suspended sentence.
Vinh Thuy had entered the Top 15 Mister International contest and won Mr. Photogenic International in 2009. He has featured in some movies including "Chuyen Tinh Dao Ngoc" (Love Story on Pearl Island) and "Nhat Ky Bach Tuyet" (Snow White's Diary).