Since early October, the Police and Market Management teams of Lang Son, a province bordering China, have seized thousands of tons of illegally imported Chinese fireworks. With Tet (Lunar New Year) on the way the fight against firecracker smuggling has intensified.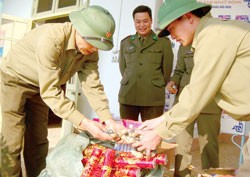 The Police of Huu Nghi Border Gate seize illicit firecrackers
A package of firecrackers is sold for between 15-17 Yuan, VND36,000-40,000, at Lung Vai market in China. Prices soar to between VND120,000-150,000 when sold at Dong Dang market in Dong Dang Town of  Lang Son Province.
With fat profits to be made smugglers have used all manner of tricks to transport illicit firecrackers into Vietnam despite patrols and strict monitoring by border police. 
They hire carriers, including students, to carry firecrackers through the border where the goods will then be transported to secret warehouses in Dong Dang Town.
Senior lieutenant-colonel Nguyen Van Nam, head of Police Post of Huu Nghi Border Gate said, "A carrier will be paid between VND10,000-15,000 for each kilo of illicit firecrackers he has successfully transported through border gate. It's a generous payoff. That's why contraband and the number of those transporting it have increased day after day.
"In some cases police have intercepted smugglers trafficking nearly 300 kilos of firecrackers," added Lt Col. Nam.
Explaining why the fight against firecracker smuggling is difficult, Lt Col. Nam said, "Since smuggling 30kg or more illicit fireworks into Vietnam is a serious criminal offence, smugglers break down their packages into smaller lots. In the event the contraband is detected, the carrier will only have to face an administrative charge."
In Dong Dang Town, peddlers can be found selling their goods in restaurants. In markets at Tan Thanh, a border crossing at Lang Son, firecrackers are sold by traders to people who can buy as many firecrackers as they desire. 
Mr. Tran Xuan Thuong, deputy director of the Customs of Chi Ma border gate, said, "To fight effectively against firecracker smuggling, Customs need the cooperation of provincial governments, especially in raising people's awareness of the importance of complying with the law. They must fully realize that buying or storing illicit firecrackers is a violation of the law."
Due to health hazards and waste created, firecrackers have been banned in Vietnam since 1994.