Inspectors from the Ministry of Culture, Sports and Tourism last week started sending out cautions and recommendations against the use of unlicensed computer software, and found out such a case in Hanoi.
The inspection team of the ministry sent on December 11 recommendations to computer distributors and dealers in Thai Ha Street in the capital, where computer shops stand side by side. Twelve companies signed receipt of the recommendations.
In the recommendation note, Vu Xuan Thanh, the ministry's chief inspector, wrote, "Computer software is a form of copyright protected under Vietnamese law. As part of regular activities to raise legal awareness on protection of intellectual property associated with computer software, we recommend that companies doing computer-related business avoid copying, installing and using software without the consent of the rightful owners. Any uncovered contraventions will be dealt with in accordance with prevailing laws".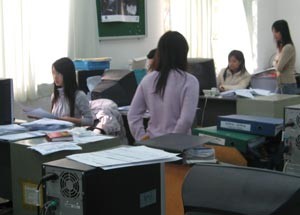 Inspectors check computers at the Global Sourcenet Ltd. Company on Dec. 12 (Photo: Hoa Pham)
A fact is inspection teams including personnel from the ministry and the Ministry of Public Security have been checking companies and businesses nationwide for intellectual property protection.
On December 12, an inter-ministerial task force raided Global Sourcenet Ltd., a Korean manufacturer of garments and sportswear for exports in Hung Yen Province, which borders Hanoi. The inspectors found a large amount of pirated software programs in computers that the company was using for business purposes.
The unlicensed programs included Microsoft Windows XP Professional 2002, Microsoft Office Professional 2000 and 2003, MTD 2002 dictionary, ACD See Professional, Symantec Antivirus, and some others.
The inspectors estimated all pirated software programs at the company were worth VND1 billion (about US$59,000).
Company general director Kim Li San and information technology manager Vu Trung Thong admitted the violations.
The inspectors said they were working out a fine against the Korean company.