A man suspected of murdering a money-lender and her brother-in-law and dumping their bodies at a cemetery has been arrested, police said Thursday.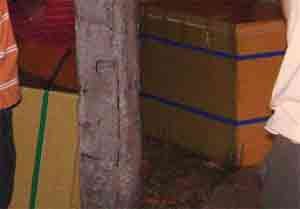 Two styrofoam boxes containing the victims' corpses found at Lai Thieu cemetery (Photo: Vietnamnet)
Police said a resident of Binh Duong Province, which neighbors HCMC, saw a truck pull up at the gates of Lai Thieu cemetery at around 5 p.m. on December 14. Two men got out of the truck and carried two large styrofoam boxes into the cemetery.

After putting the boxes beside a tomb, the two men hurriedly got into the truck and drove away.

The eyewitness immediately alerted police, who went to the cemetery and opened the boxes, discovering the bodies of a man and a woman inside. Both had been tied up with tape.

The post–mortem indicated that the two victims had been electrocuted in Ho Chi Minh City and then transported to the cemetery.

Based on evidence obtained through preliminary investigations, on December 16 police arrested 48-year-old Chau Hung Son on suspicion of carrying out the murders.

At the police station, Son stated that he had borrowed VND600 million from Ms. Vo Thi Hoa, 38, resident of Thao Dien Ward in Ho Chi Minh City's District 2.

On December 14, Son phoned Hoa and told her that he would repay half of the debt. He asked her to come to his home at 124/14 No Trang Long Street in Binh Thanh District to receive the money.

Hoa asked 35-year-old Tran Quyet Thang, who was her husband's younger brother, to go with her to Son' house, where they were killed by Son and his accomplices.

Son put the corpses of the two victims into two separate styrofoam boxes and then hired a light truck, with a driver and an assistant driver, to transport the bodies to Lai Thieu cemetery and leave them there.