The Supreme People's Procuracy decided to indict ten people of a ring accused of illegally transporting Vietnamese women to Malaysia on April 7.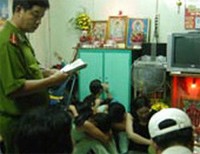 Police execute the arrest order.
These people are in temporary detention for seducing and trafficking women. Among them is a Taiwanese man, Tsai I Hsien, who is instigator Tran Thi My Phuong's husband.
The women trafficking ring was nabbed on March 27, 2006, due to cooperation between police of Ho Chi Minh City and Tay Ninh province. The women were sold to Malaysia to be sex workers. Most of them are from southern provinces.

Related Article:

Police Crack Women Trafficking Ring in southern VN