The Mobile Forest Protection Team No.1 of the HCMC Forestry Protection Department coordinated with the Nguyen Cu Trinh Ward police of District 1 to capture two men and a taxi driver who were involved in illegally transporting a tiger and a bear that had been killed.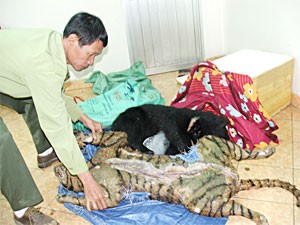 A police checks the exhibit

At 22 g 30 the Mobile Forest Protection and the Police of Nguyen Cu Trinh Ward successfully stopped the taxi with the number plate 56K 7072, driven by Phan Duy Kien and detected a 30 kilogram dead tiger and a 36 kilogram dead bear concealed in a plastic sack with ice.
The customers in the taxi, also the owners of the sack, were Nguyen Dinh Nam, aged 33, living in the Trung Thanh Commune of Nghe An Province and Uong Ba Quyen, aged 44, living in the Huong Son Commune of Ha Tinh Province.
The two men and the taxi driver were taken to the Nguyen Cu Trinh Ward Police Station for a report to be made about the illegal transportation of wild animals on the list of endangered species.
The two men stated that they had bought these animals from a man named La Tuan in Ha Tinh Province, and transported them by coach through the Cau Treo border to Ho Chi Minh City so that they could sell them to a glue workshop.
The police have subsequently seized the evidence and detained the two men and the taxi driver for further investigations in accordance with current legal regulations.