Ho Chi Minh City has passed many regulations for dealing with complaints and denunciations by the public, but some of its districts still lack transparency or consistency in enforcing the Ordinance on Complaints and Denunciations by Citizens.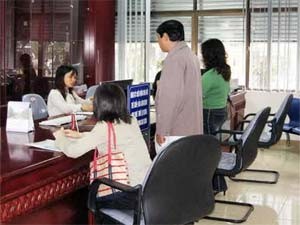 Some citizens are received at a citizen reception office in Ha Noi. (Photo: An Ninh Thu Do)
Residents from more than 40 households in ward 16, District 8, gathered at the city's Inspectorate on October 9 to protest "inconsistencies" in taking over land for the Truong Dinh Hoi project to build houses to resettle people whose lands are acquired.
They charged the district authorities with shirking their responsibility in resolving the problem.
In Thu Duc District, 73 households recently protested against an inconsistency in the land acquisition for the Ho Chi Minh City National University Project.
Initially, the area required for the project was estimated at 95 hectares but it was later increased to 108 hectares, causing discontent among residents.
In Go Vap District, 48 households complained against a decision by local authorities to take over land for the Tan Son Nhat-Binh Loi-Beltway project.
Truong Van Non, chairman of the district People's Committee, said the city had decided recently that these households had to be relocated and their lands acquired.
Meanwhile, Tran Quang Phuong, head of the Department of Transport and Communications, had clarified earlier that the land was no longer needed for the project.
At a meeting held on October 8 and attended by the chairman of the ward 3 People's Committee, many residents said they had received no information from the local administration about land acquisition, compensation, or resettlement.
Under city regulations, chairpersons of district people's committees are responsible for fully and clearly providing such information to the public.
Besides, official agencies are required to reply satisfactorily to every public query.
If a complaint proves to be valid, concerned agencies must revoke their decisions that led to the complaint, and must punish any official who violates regulations regarding complaints and denunciations by citizens.
City regulations stipulate that local administrations must strictly follow rules for dealing with public complaints to protect the legitimate rights and interests of citizens and at the same time punish those who abuse the right to complaint and denunciation to cause troubles.