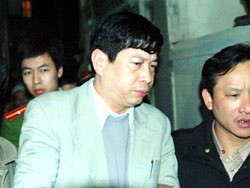 Bui Tien Dung
Police investigators have officially begun probe on allegations of giving and taking bribes against Bui Tien Dung, who was arrested in January this year for gambling. He is also facing charges of other wrongdoings.
On March 2, police kept questioning PMU 18 office manager Pham Tien Dung about the source of funds that his boss Dung used to gamble. Pham Tien Dung is considered a go-between for his boss and contractors. Tien Dung was in charge of building a villa for his boss.
The villa, in Trung Hoa-Nhan Chinh Area in Ha Noi, is described as evidence of bribery. The plot of land for the house was bought in 2002 at about VND3 billion, but not with Dung's money.
Police is are investigating allegations that Bui Tien Dung has committed bribery. Apart from spending lavishly on his bosses, Dung also used properties and cars as bribes, police's evidence suggest. It was alleged that over 50 cars of PMU18 were on loan.

This has apparently constituted an offense, as investigators have proofs that some of the cars were in fact given away as gifts. In the jail, the former PMU 18 director confessed to police that he had given some of the deluxe cars to some officials.

On March 1, police summoned Bui Tien Dung's wife to question about his villa by Ngoc Khanh Lake where she is living, but she failed to turn up.
On March 2, Bui Tien Dung and Vu Manh Tien – another arrested PMU18 official – continued to be questioned by police. Dung accepted that he had betted in football with US$1.8 million, not US$7 million as reported, via a syndicate run by Bui Quang Hung.
The Ministry of Public Security is tracking down other football betting rings to gather more information and evidence.
Dung has murky links

Instructed by the Prime Minister, Transport Minister Dao Dinh Binh has ordered PMU 18 to report the number of its cars. PMU 18 has also make reports about sub-contractors in road and bridge projects, including sub-contractors described as ones having murky links with PMU 18 like Bac Nam Company and Hoa Viet Company.

Preliminary figures show that PMU 18 has given to Bac Nam Company more than VND10 billion to organize ceremonies to kick off the PMU's projects. The company was contracted to build some rural roads, and was a sub-contractor in other major projects.
A PMU18 official said about ten enterprises have fishy links with PMU18. Among them is the Construction and Rural Development Joint Stock Company, whose director's wife is a sister of Dung's wife. The company has carried out some work on National Highway 2.