The police on March 23 arrested Hoa Viet Co. board chairman Nguyen Mau Thon and Duong Manh Hoa, a driver at Project Management Unit 18, the Ministry of Transport, for offering bribes in a bid to avoid prosecution for PMU18 former general director Bui Tien Dung.
The police alleged Hoa – Dung's driver – had used US$30,000 as bribes for this purpose since his boss was arrested in January 2006 on charges of gambling and corruption. Dung was the PMU18 general director when he was detained.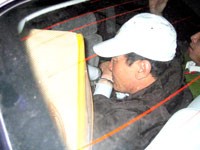 Nguyen Mau Thon is arrested on March 23
Nguyen Mau Thon was believed to have offered bribes of more than VND2 billion (over US$125,900) to repay the debt to the PMU18 director, who has picked his company as winners of many lucrative contracts, enabling to pocket billions of dong.
PMU18 is in charge of building roads and bridges.
In related news, the police are currently questioning Deputy Minister of Transport Nguyen Viet Tien, who used to be general director of PMU18, about information related to the corruption scandal at PMU18.
The police have asked Mr. Tien about his involvement in the scandal, which has provoked public outcry, including the rampant lending of PMU18 vehicles, disbursement of capital in road and bridge construction.
Mr. Tien was general director of PMU18 before he became the deputy minister in 1998. His successor, Bui Tien Dung, spent big money betting international football matches and offered bribes to officials.
As a deputy minister of transport, Mr. Tien was authorised to manage a huge amount of capital for infrastructure development. At one stage, he allocated to PMU18 about 70% of the budget the Government assigned to the ministry.
Related Articles:
Police: Transport Agency Charged with Bribery, Corruption
Another Gambler Faces Prosecution
Another Transport Official Arrested on Bribery Charges
Transport Official Faces Bribery Charges