The Ho Chi Minh City Police Bureau of Criminal Investigation on Economy and Position (known as PC15) yesterday arrested Nguyen Dong Thanh and Nguyen Chi Trung for stealing international telephone charges.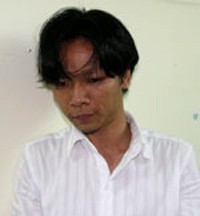 Nguyen Dong Thanh
Thanh, 31, and Trung, 23, were caught operating technical devices that switch international calls to local ones to avoid telephone charges at Thanh's company on Ly Chinh Thang Street, District 3.
 
After arrest, Thanh confessed he, a director of Trung Chuyen Co., Ltd., worked with David Hersenkorn of France in late 2005 to bring the devices to Viet Nam and undertake the telecom scam.
 
Thanh rented four houses on different streets to install devices, Ly Chinh Thanh, Ly Thuong Kiet (Tan Binh District), Nguyen Van Nghi (Go Vap District) and Street No.7 (Thu Duc District).
 
Thanh leased Internet lines and registered many phone numbers at each house. Then he connected the registered telephone numbers to the Internet through the devices. The system automatically switched the calls from overseas.
 
David Hersenkorn transferred VND50 million (US$3,125) to Thanh each month to employ maintenance staff. Thanh employed Nguyen Chi Trung, his wife's brother, to assist him and paid him VND5 million (US$312) per month.
 
Yesterday, the Police also searched three other places and confiscated several devices.
 
An investigator said that, though thorough estimates have yet to be made, the thieves may well have deprived telecom carriers of hundreds of thousands of dollars.