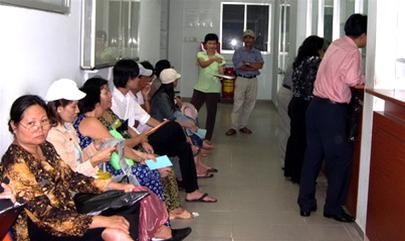 Citizens wait for tax payment at a district tax agency in Ho Chi Minh City (Photo: Tuoi Tre)
The Vietnamese National Assembly's full-time deputies discussed the bill on tax management on Friday, arguing that taxation investigation should be assigned to the tax management agency because it is a good way to crack down on tax evasion and tax fraud.
Many lawmakers shared a view that tax evasion and tax fraud have become more and more complicated, so the burden of taxation investigation should be put into the hand of the tax management agency, as in many other countries.
If so, the law needs to specify the agency's responsibilities in such investigation so that it will not overstep the bounds of police.

However, deputies Le Minh Hong of Ninh Binh Province and Hoang Van Minh of Nghe An Province were concerned that such overstepping might take place, and that it might be easier for wrongdoings to take place.
The two deputies' idea was that the tax management agency should focus on inspection only, and when it discovers tax evasion or tax fraud, it will transfer the cases to police.
Mr. Minh also proposed that the authors of the bill tell the National Assembly (NA) whether it is true that the current absence of a taxation investigation agency is the reason for losses in tax payments and tax fraud in reality.
It is necessary to assign taxation investigation to the tax management agency, said
Do Ngoc Quang of Bac Ninh Province, Dang Van Xuong of Long An Province and some other NA deputies. They argued that many enterprises, both private and State-run, have intentionally committed tax evasion and tax fraud, and even in many cases, many businesses in different places have colluded with each other or with foreign companies to carry out their dishonest plans.
During discussions, legislators said almost countries in the world assigned taxation investigation to the tax agencies, and some countries even have tax police forces and tax courts.
However, Mr. Nguyen Duc Kien, head of the NA Committee for Economy and Budget, said tax investigation should only be assigned to the tax management agency when tax evasion or tax fraud is organized by many businesses – Vietnamese and/or foreign. A requirement here is that provisions must be as clear and comprehensive as possible.
Then, the lawmakers reiterated that it is necessary to assign this task to the tax management agency.