Two American nationals of Vietnamese origin currently being detained in Viet Nam for carrying a gun into Ho Chi Minh City last month have confessed to following orders from the militant Viet Tan Party in an attempt to assassinate communist officials.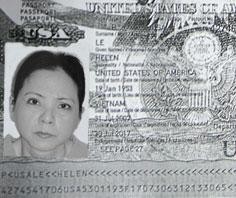 Mrs. Nguyen Thi Thinh
According to Lao Dong newspaper, Le Van Phan, 55 years old and his wife Nguyen Thi Thinh, 54 admitted on Dec. 6 to Vietnamese investigators that Viet Tan Party [Viet Nam Progress Party] told them to traffick the pistol into HCMC where they would be contacted by some party members who were to receive the weapon.
The couple, both holding US passports, admitted this is part of a plot by Viet Tan, which is considered by the Vietnamese government to be a terrorist organization, to assassinate Vietnamese officials including senior security officers in Ho Chi Minh City.
Phan, who used to be second lieutenant and platoon leader for the former Saigon regime, said he wrapped up the Ruger model P85 No 300-76577 in black duct tape and put it into an outer suitcase pocket whose zipper is broken.
Phan said he did this so that he could claim that the gun had been pushed into the pocket by someone else wishing to harm him.
At 11.15 am on November 23, customs officers at HCMC's Tan Son Nhat International Airport caught the couple red-handed with the gun and 13 bullets.
Initially, they claimed they did not know anything. Later, Thinh said she carried a gun only to protect herself while Phan said his wife had been suffering from mental disorders.
Vietnamese authorities are now working with US anti-terrorist agencies to find out how the pistol was able to pass through security at the Los Angeles Airport where the couple started for HCMC.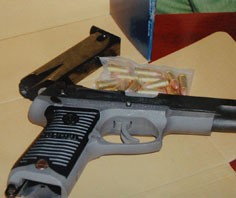 The Ruger model P85 No 300-76577 found in the couple's suitcase
At roughly the same time the duo was arrested, six others - believed also to be Viet Tan members - were detained.
They are Nguyen Quoc Quan,  54, a 'member of the Viet Tan Party's politburo' and head of the self-claimed government's 'Department for Interior Affairs', Nguyen Thi Thanh Van, 51, of French citizenship, Truong Leon (or Truong Van Sy), 54, of American citizenship, Luong Ngoc Bang (or SomSak) 67, of Thai nationality, Vietnamese Nguyen The Vu, 30 and Vu's brother Nguyen Viet Trung, 27.
Quan told police he visited Viet Nam this time to establish, build and expand Viet Tan Party's local network and inspect party operations firsthand.
The five [excluding Quan] were caught red-handed November 17 at Vu's residence in HCMC with nearly 7,000 leaflets issued by Viet Tan, smuggled into Viet Nam from Phnom Penh, which contain distorted information aimed at defaming the Socialist Republic of Viet Nam (SRVN) and inciting protests against its government.
Also seized were over 8,000 envelopes, 3,775 stamps, and 1,000 decals of Viet Tan logo bearing the frequency and broadcast hours of the Viet Tan radio channel "Chan Troi Moi" (New Horizon) which spreads false information against SRVN.