The Ho Chi Minh City People's Court yesterday sentenced a 37-year-old Australian man to death for trafficking 3 kilogram of heroin.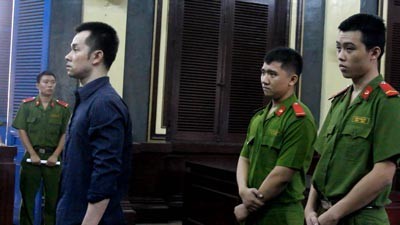 Dung at the court (Photo : SGGP)
In April 2013, Pham Trung Dung together with his wife and children returned Vietnam to visit his family in Ho Chi Minh City.  A man defined as Kien called Dung, saying that one of their friends in Australia asked him to bring two suitcases back to Australia and he would be paid  transport charge of AUD40,000.
Though Dung knew that the two suitcases contained heroin, he still agreed to take them to Sydney, Australia.
Kien delivered the suitcases to Dung on May 16, 2013. Dung brought the suitcases home, asking his wife to put clothes in. Next day, when he was completing customs and immigration procedures at Tan Son Nhat ariport , officials from Department of Customs detected two bags of white powder packed in his luggage.
Tests later confirmed that the powder was heroin, and the smuggled drugs weighed over 3 kilogram.