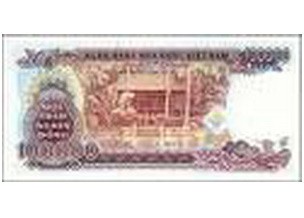 The back of VND100,000 cotton note
Recent media reports tell of shopkeepers and sales clerks not accepting the old VND100,000 cotton notes as they think only the new polymer notes are legal tender now.
In response, the Vault and Issuance Department of the State Bank of Viet Nam announced on April 10 that the cotton notes are still legal tender and that refusing to accept them as payment is an offence.
Mr. Nguyen Van Toan, the department's deputy director, said the State Bank's instruction when it began issuing the polymer notes was that the cotton notes would remain in circulation.