The Ministry of Home Affairs and the Government Inspectorate have issued a joint circular announcing that whistleblowers will be rewarded up to VND3.4 billion (US$160,000).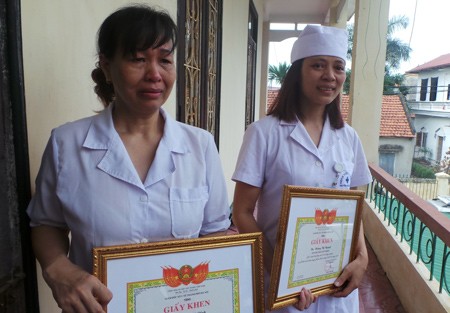 Hoang Thi Nguyet (right) received a merit certificate and VND320,000 ($15) for exposing violations at the Hoai Duc Hospital in Ha Noi. — Photo dantri.com.vn
The joint circular said individuals who come forward to denounce corruption will be awarded in many ways. Specifically, those individuals, who detect and try to prevent corrupt acts worth between VND300 million ($15,000) and upwards will qualify for the reward.
This also includes persons, who sacrifice their life or are injured while doing so, with the injury rate being 61 per cent or more, and where injuries stemmed from opposing acts of corruption, will be awarded the Medal of Courage.
Individuals denouncing and preventing acts of corruption that help the state recover VND200 million to VND500 million, or those who suffer injury or damage to health with the injury rate being 31 to 61 per cent, will be awarded the Certificate of Merit by the Prime Minister.
Those who denounce and prevent acts of corruption and help the state recover an amount that is 600 times the basic salary will be rewarded in cash of up to VND3.4 billion ($160,000).
Earlier, the highest proposed reward amount was VND5 billion (US$250,000), however, a leader from the Government Inspectorate said the adjustment was made in line with reality and the basic salary rate.
The circular also stated that the reward will be announced publicly, except in cases related to the country's security matters or in cases where the rewarded individuals request that their identity should not be revealed.
The reward would not be applicable to those who violate the law and are subjected to a criminal sentence.
According to a survey by Transparency International, some 60 per cent of Vietnamese believe that ordinary people can make changes in the fight against corruption.
However, the survey also said that only 38 per cent of Vietnamese were willing to denounce corruption cases.