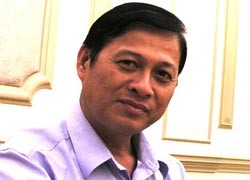 Mr.Mai Quoc Binh
Mr. Quach Le Thanh, head of the Government Inspectorate has just signed a decision to set up a work group to solve voters'complaints and denunciations during Asia-Pacific Economic Cooperation (APEC) Summit which is scheduled at the end of 2006.
The group is headed by Mr. Mai Quoc Binh, Deputy General Inspector of the Government. Besides, there are other 13 members who are representatives of relevant ministries and departments.
The group' missions are to meet with the voters; cooperate with local authorities to deal with problems that cause voters to complain to the central offices directly; steer teams of inspectors to solve complaints, allegations and cases with which the prime minister entrusts, especially those involving a large number of people.