Project management units (PMU) under the Ministry of Transport are similar in names but different in authority, structure and responsibility. The agencies, whether they are big or small, have committed numerous wrongdoings in their operations because of the absence of a legal framework ruling their activities.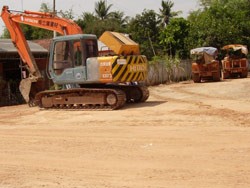 Misappropriation of public funds in road building has been reported in Viet Nam (Photo: Tuong Chau)
PMU5 seen with unclear ties
Among the project management units (PMU) of the Ministry of Transport, PMU5 is likely the agency less known to the public than other PMU agencies, though capital for building roads allocated to PMU5 is second to none of its better known PMU brothers.
First, PMU5 was in charge of the upgrade of National Highway 3 in northern Viet Nam from Thai Nguyen Province to Cao Bang Province. More than two years passed since the groundbreaking day, and only 2.7 kilometers of road has been upgraded.

Notably, the surface of the upgraded section was peeling off late 2004 while work was going on. PMU5 blamed the weather conditions and technical mistakes. A fact here is that the contractor offered a VND24.7 billion bid for 25 kilometers of road (one US dollar equal to VND15,500 or so at that time). The bid was unusually low.
The public wants to know PMU5's responsibility.
It is said that PMU5 has murky ties with Ministry of Transport officials because the agency was in charge of more than one road projects at a time.
In 2003, the agency was assigned to upgrade provincial roads in 18 northern provinces and cities with a total capital of US$100 million. After almost two years, over half way through the schedule but only over 10% of work was done. However, another road project worth US$130 million was recently allocated to the agency.
PMU5 was set up more than 10 years ago to manage the upgrade of National Highway 5 between Ha Noi and Hai Phong City, also in the north. The originally approved capital was VND1,317 billion but it the project cost up to VND2,828 billion, increasing by 106%.
Another typical example

Like PMU agencies of the Ministry of Transport, lower-level PMU agencies of State-run companies have reportedly committed wrongdoings. Notable, the PMU in charge of upgrading nine bridges in the North-South railway system reportedly to have wasted almost VND14.7 billion due to mismanagement.
The agency was also allegedly wasting public funds in other jobs.
As the owners of road and bridge projects, PMU agencies have lots of authority but assume little responsibility, according to industry experts. This has resulted in misappropriation of public funds. Seeing the recent major corruption scandal at PMU18 of the Ministry of Transport, the public require another model to better manage State-funded projects.

Related articles
Chief of Investigation Police Bureau: I Did Not Take Bribes
PM calls on Transport Officials to fulfil their Duties